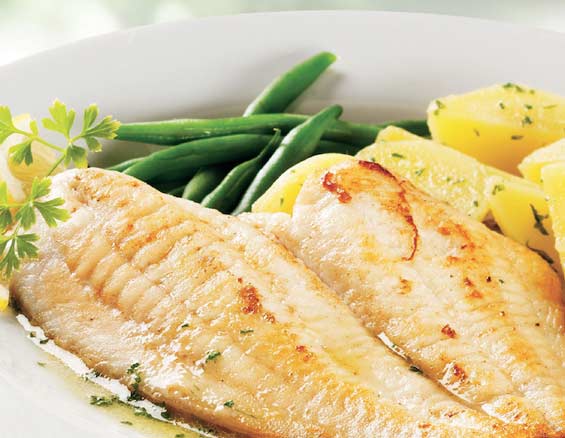 Lemon Butter Yellowfin Sole
Ingredients
1 lb Bay Prime Sole Fillets
3 Tablespoons Butter, divided
1 Lemon
1 Teaspoon Dried Parsley Flakes
Salt and Pepper to Taste
Serve with Roasted Potatoes and Steamed Green Beans.
INSTRUCTIONS
1   Melt 1 Tablespoon butter in a saute pan over medium-high heat. Place previously thawed sole fillets in hot butter.
2   Cook approximately 2 minutes on first side before turning. Top of fish should be golden brown.
3   Squeeze 1/2 – 1 lemon (to taste) over fish and add remaining 2 Tablespoons butter and parsley to create lemon butter sauce.
4   Once fish is cooked through, remove from saute pan and drizzle lemon butter sauce over fish. Serves 4.
DISTRIBUTED BY BAY PRIME SEAFOOD COMPANY